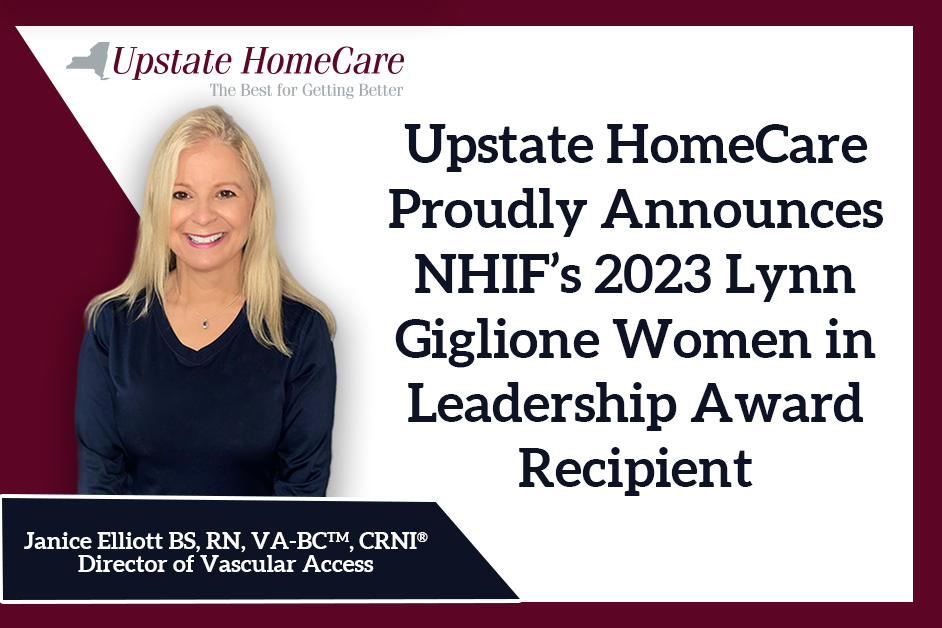 Upstate HomeCare Announces Janice Elliott Receiving National Home Infusion Foundation's 2023 Lynn Giglione Women in Leadership Award
CLINTON, NY—Upstate HomeCare proudly announces that Janice Elliott, Director of Vascular Access, has been selected to receive the 2023 Lynn Giglione Women in Leadership Award from the National Home Infusion Foundation (NHIF).
This award recognizes and honors women leaders who have demonstrated exemplary service to patients and their peers while promoting the mission of NHIF. The award was named after the late Lynn Giglione, a founding board member of NHIF and a trailblazer in the home and alternate site infusion industry.
Janice has over 28 years of experience as a registered nurse, with over 21 years in the home care setting. She has administered infusion therapy, developed vascular access teams, and provided education for clinicians in the home, long-term care, hospice, and acute care settings. Janice is an active member and chapter president of the Association for Vascular Access Central New York (AVA CNY). In 2020, she received the national AVA's Impact Award. She is board-certified in vascular access (VA-BC™) and is CRNI® certified.
David Franklin, MSA, NHIF Board Chair, said, "Janice's peers say she is a trailblazer who makes them better providers through her compassion, dedication, knowledge, and positivity. This is the same spirit that Lynn modeled, and that this award was designed to celebrate."
"Jan is a force both inside our company and the industry. She leads with innate qualities of leadership that cause people to gravitate to her and follow her down paths of greater knowledge and the highest level of patient care," said Greg LoPresti, Upstate HomeCare CEO, "She also is known for her smile, infectious attitude and a tiny bit of craziness that makes people laugh. Upstate HomeCare is proud to have Jan on our team leading our vascular access efforts, we truly are an industry leader in this program."
Elliott will receive the award at NHIA's 2023 Annual Conference during the General Session on Tuesday, March 28, from 1:45 am – 3:00 pm Eastern.
"I cannot thank NHIF enough for this prestigious award, and for being a part of the Upstate HomeCare team that allows me to practice what I love," Elliot said. "I am so blessed, grateful, and honored to be the recipient."
Upstate HomeCare is so very proud to have Janice Elliott as a part of their family and is honored that she has been chosen to receive this award.
ABOUT UPSTATE HOMECARE: Upstate HomeCare is a regional provider of home healthcare services, including pharmacy, infusion therapies, and specialty medications. Upstate HomeCare has nine offices across New York State; Buffalo, Rochester, Syracuse, Binghamton, Utica, Albany, Westchester, Bronx and Long Island and is headquartered in Clinton, NY. The company was founded in 1985 and is celebrating its 38th year in business. Upstate HomeCare employs over 150 individuals, including pharmacists, nurses, respiratory therapists, and other support personnel.
For more information, contact Greg LoPresti, CEO of Upstate HomeCare, at (315) 580-4078.